You may be hearing quite about smart homes lately and already have a little idea of what smart home technology is capable of. For instance, getting a cup of coffee ready in the morning automatically, controlling lights remotely, and automating your lawn's water sprinklers are pretty fascinating. Moreover, a smart garage door opener homekit lets you control your smart garage gate with Siri via your iPhone, iPad, Apple Watch, Apple TV, and HomePod. If you also want to leverage this technology but first want to know more about it, keep reading this guide on smart home technology for beginners!
What Is Smart Home Technology and How Does It Work?

Smart home technology works on devices, gadgets, and even home appliances, which can be controlled by your smartphone, tablet, or laptop.
These smart devices usually have a dedicated app that allows you to control and monitor them remotely, and needs to be connected via Wi-Fi to work.
Smart speakers, which also need to be connected via Wi-Fi, can also control all your smart devices through your voice commands.
Some smart devices also allow you to schedule them in advance, so they can effectively work on their own without any of your manual input.
Furthermore, some smart devices learn your pattern, program themselves, and operate accordingly. You can also receive notifications and alerts on your smartphone if anything goes wrong or to simply keep you in the loop.
Advantages of Smart Homes
1.    Convenience
With smart home technology, you can control every smart device in your home for your convenience. For example, you can switch off the lights that you forgot to turn off when leaving for work with a single tap on your phone.
2.    Sense of Security
Smart security systems like cameras and doorbells feature high-quality resolution with night-time vision and 360-degree view to ensure you and your family are secure.
Some features are even motion-detected that immediately notify you on your phone when they detect something or someone near the premises of your house.
3.    Reduced Electricity Bills
Since you can always monitor the on-off status of your electronic devices like lights and even thermostats from anywhere, you can keep your hefty electricity bills under control.
Instead of leaving the thermostat on, you can turn it on right before you get home from work. All this saves you a lot of money.
4.    Boost in Property Value
Having smart home technology can instantly give a boost to your property value as it's high in demand. Due to several benefits smart home technology offers, people are willing to pay more to invest in such properties.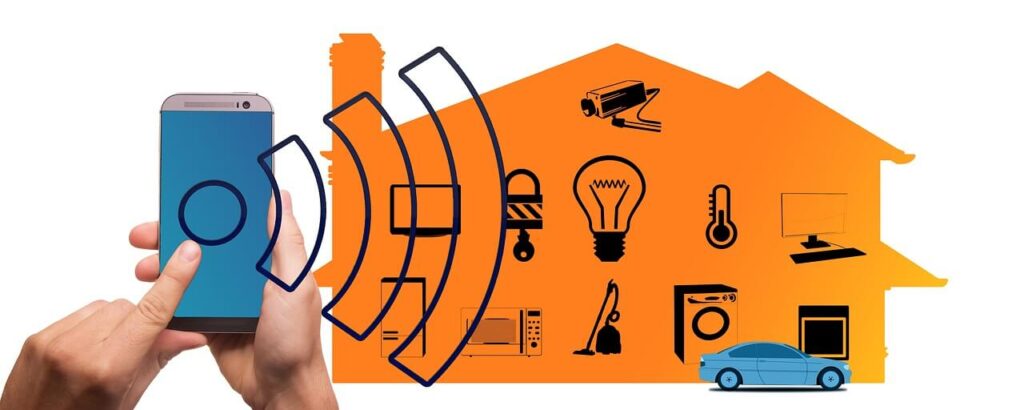 Disadvantages of Smart Homes
1.    Costly
Investing in smart home technology can be costly, especially if you're starting from scratch. A traditional smart bulb would cost you around $5, whereas a smart one usually comes with a price tag of $32.
However, this is more like a one-off investment and gets paid in the future in terms of greater property value and savings.
2.    Cybersecurity Risks
As all your smart devices are connected over the internet, and cybercriminals are always active in hacking, there's always a risk of cybersecurity with these devices.
You can overcome this by setting unique and strong passwords for your devices and Wi-Fi, installing robust antivirus software on your system, and following other best practices for cybersecurity.
Conclusion
Smart home technology connects your smart devices and appliances through Wi-Fi, and you can remotely control and keep an eye on them through your smartphone or tablet with their dedicated apps. Although smart devices may seem costly now, they will pay you off in the long run in both monetary and non-monetary terms.